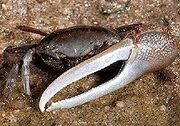 A fiddler crab, sometimes known as a calling crab, may be any of approximately 100 species of semi-terrestrial marine crabs which make up the genus Uca.[1] As members of the family Ocypodidae, fiddler crabs are most closely related to the ghost crabs of the genus Ocypode. This entire group is composed of small crabs – the largest being slightly over two inches
across. Fiddler crabs are found along sea beaches and brackish inter-tidal mud flats, lagoons and swamps.
Like all crabs, fiddler crabs shed their shells as they grow. If they have lost legs or claws during their present growth cycle a new one will be present when they molt. If the
large fiddle claw is lost, males will develop one on the opposite side after their next molt. Newly molted crabs are very vulnerable because of their soft shells. They are reclusive and hide until the new shell hardens.
Found in mangroves, in salt marshes, and on sandy or muddy beaches of West Africa, the Western Atlantic, the Eastern Pacific and the Indo-Pacific, fiddler crabs are easily recognized by their distinctively asymmetric claws. Fiddler crabs communicate by a sequence of waves and gestures; males have an oversized claw or cheliped; used in clashes of ritualised combat of courtship over a female and signal their intentions between conspecifics. The movement of the smaller claw from ground to mouth during feeding underlines the crabs' common name; it seems that animal plays the larger claw somewhat like a fiddle.
The crab's smaller claw picks up a chunk of sediment from the ground and brings it to the mouth, where its contents are sifted through (making the crab a detritivore). After anything edible is salvaged, be it algae, microbes, fungus, or other decaying detritus, the sediment is replaced in the form of a little ball. The presence of these sediment balls near the entrance to a burrow is a good indication of its occupation. Some experts believe that the feeding habits of fiddler crabs play a vital role in the preservation of wetland environments; by sifting through the sands, they aerate the substrate and prevent anaerobic conditions.
Ad blocker interference detected!
Wikia is a free-to-use site that makes money from advertising. We have a modified experience for viewers using ad blockers

Wikia is not accessible if you've made further modifications. Remove the custom ad blocker rule(s) and the page will load as expected.