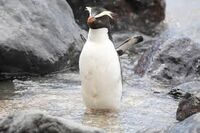 Fiordland Penguin
250px

Scientific Classification
Kingdom
Animalia
Phylum
Chordata
Class
Aves
Order
Sphenisciformes
Family
Sphenisdae
Genus
Eudyptes
Species
Eudyptes Pachyrhynchus
Add introductory text here...
Appearance
Edit
Needs Information
Needs Information
Fiordland Penguins are known to cephalopods, crustacheans and fish.
Needs Information
Ad blocker interference detected!
Wikia is a free-to-use site that makes money from advertising. We have a modified experience for viewers using ad blockers

Wikia is not accessible if you've made further modifications. Remove the custom ad blocker rule(s) and the page will load as expected.