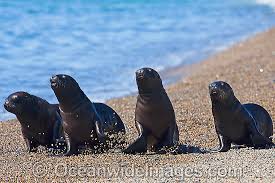 South American Sea Lion
Scientific Classification
Kingdom
Animalia
Phylum
Chordata
Class
Mammalia
Order
Carnivora
Family
Otariidae
Genus
Otaria
Species
Otaria Flavscens
Add introductory text here...
Appearance
Edit
Needs Information
Needs Information
Much like the Australian Sea Lion, The South American Sea Lion eats many fish in the area. It is also known to feed on octopus and squids and occansionally eats small penquins as well.
Needs Information
Ad blocker interference detected!
Wikia is a free-to-use site that makes money from advertising. We have a modified experience for viewers using ad blockers

Wikia is not accessible if you've made further modifications. Remove the custom ad blocker rule(s) and the page will load as expected.