Star-nosed Mole


Information
Range
North America
Scientific Classification
Kingdom
Animalia
Phylum
Chordata
Class
Mammalia
Order
Soricomorpha
Family
Talpidae
Genus
Condylura
Species
Condylura cristata
Conservation Status

Least Concern
The Star-nosed Mole is a species from the Condylura genus.
Appearance
Edit
The star-nosed mole is covered in thick blackish brown water-repellent fur and has large scaled feet and a long thick tail, which appears to function as a fat storage reserve for the spring breeding season. Adults are 15 to 20 cm in length, weigh about 55 g, and have 44 teeth. The mole's most distinctive feature is a circle of 22 mobile, pink, fleshy tentacles at the end of the snout, from which they derive their name.
It is a good swimmer and can forage along the bottoms of streams and ponds. Like other moles, this animal digs shallow surface tunnels for foraging; often, these tunnels exit underwater. It is active day and night and remains active in winter, when it has been observed tunneling through the snow and swimming in ice-covered streams. Little is known about the social behavior of the species, but it is suspected that it is colonial.
The star-nosed mole lives in wet lowland areas and eats small invertebrates, aquatic insects, worms and mollusks.
Eimer's Organs
Edit
The extremely sensitive nasal tentacles are covered with minute touch receptors known as Eimer's organs. The nose is approximately one centimeter in diameter with approximately 25,000 Eimer's organs distributed on 22 appendages. Eimer's organs were first described in the European mole in 1871 by German zoologist Theodor Eimer. Other mole species also possess Eimer's organs, though they are not as specialized or numerous as in the star-nosed mole.
Adult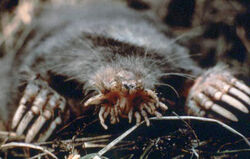 The star-nosed mole mates in late winter or early spring, and the female has one litter of typically 4 or 5 young in late spring or early summer. However, females are known to have a second litter if their first is unsuccessful. At birth, each offspring is about 5 cm long, hairless, and weighs about 1.5 g. Their eyes, ears, and star are all sealed, only opening and becoming useful approximately 14 days after birth. They become independent after about 30 days, and are fully mature after 10 months.
Ad blocker interference detected!
Wikia is a free-to-use site that makes money from advertising. We have a modified experience for viewers using ad blockers

Wikia is not accessible if you've made further modifications. Remove the custom ad blocker rule(s) and the page will load as expected.